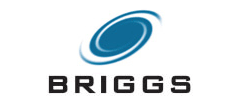 Briggs of Burton – Official Partner of Derbyshire Women's Cricket
Process engineers to the brewing and distilling industries, Briggs of Burton are a preferred partner of Derbyshire County Cricket Club and are an official partner of Derbyshire Women's cricket.
At the start of April, the Club launched its #WereBackingTheBid campaign for Derby to become a host city for the ICC Women's World Cup in 2017. The Club unveiled a set of giant cricket stumps, manufactured by Briggs of Burton, on the gateway to the city on the Pentagon Roundabout as part of the bid.
Briggs of Burton also manufactured a giant white cricket ball in May which signified the Club's intention for Derby to be a host city for the World Cup.
The giant stumps have since been erected and are funded by local businesses and private donors who have each pledged £500 to become part of the #WereBackingTheBid campaign and be involved in the development, unveiling and publicity surrounding the sculpture as well as featuring on the Partners Plaque.
Derbyshire County Cricket Club would like to thank everybody connected with Briggs of Burton for their continued support.
For more information about Briggs of Burton, process engineers to the brewing and distilling industries, please visit www.briggsplc.co.uk.