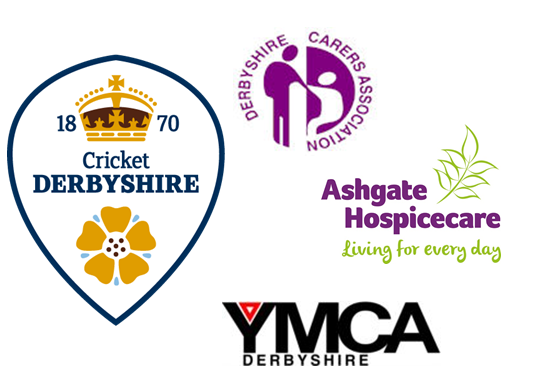 Charity Partners 2016
YMCA Derbyshire
An independent Christian charity committed to helping people at times of need, regardless of their gender, race, ability or faith. They provide housing for people facing homelessness, innovative learning and development programmes, various schemes for children and their families and other projects aimed at achieving sustainable community development.
The YMCA Sleep Easy fundraising event is taking place at The 3aaa County Ground on Friday 6 March, with around 100 participants sleeping outside so others don't have to.
Visit www.ymcaderbyshire.org.uk/sleepeasy or call 01332 579550 for more information.
Click here to view YMCA Derbyshire website >>
Ashgate Hospicecare
An independently registered charity that provides specialist palliative and end of life care and support to adults and their families across North Derbyshire. Ashgate also provides a wide range of community based care and support services to enable people to stay in their own homes for as long as possible.
Click here to view Ashgate Hospicecare website >>
Derbyshire Carers (DCA)
Provides support, advice, information and representation to and for Carers. DCA work to enable Carers to make realistic choices as to whether they wish to be Carers; and to value their own feelings and needs as well as the feelings and needs of the person they care for.
Click here to view Derbyshire Carers website >>
Requests for Support / Donations
Cricket Derbyshire will continue to encourage and review requests for support from other charities, as well as look at other ways the charities can be helped by the Club.
As a result, the Club has adopted an official charity and fundraising policy to ensure that local, and national, charities are aided by Cricket Derbyshire as well as possible, and that a consistent message is communicated to all. The policy is based on a three tier grading system of Gold, Silver and Bronze and is detailed as follows:
Gold Level
This applies to the official Cricket Derbyshire charity partners only.  A plan for the year will be agreed with the senior team of the charity.
Each plan will be based on the following:
Player support and endorsement
Promotion of charity activity through Cricket Derbyshire communication networks such as the website, Twitter, Facebook (No other charity activities or events will be publicised through official Cricket Derbyshire communication networks).
Three signed bats to be used for selected fundraising events during the year
Bearer letters for tickets to be issued for ad-hoc events
Explore the opportunity of hosting and organising a joint fundraising event in partnership with the Cricket Derbyshire Foundation
Silver Level
This applies to requests for the support of charities or fundraising events from Cricket Derbyshire sponsors or partners, both from the public and private sector. Each sponsor or partner must contribute more than £2,000 of value to Cricket Derbyshire.
Each request will be to be judged on the following criteria:
Value of the partnerships association to Cricket Derbyshire
Previous requests for support of associated charities
Fundraising event associated with the request and the potential audience
Cricket Derbyshire has the following options to donate based on the above criteria:
Signed Cricket Bat
Bearer letter for 4 x Premier Seating tickets (subject to availability)
Bearer letter for 2 x Premier Seating tickets (subject to availability)
Bearer letter for 2 x standard match tickets (subject to availability)
Bronze Level
This applies to any school, club or charity based in Derbyshire that requests support for a fundraising initiative.
Any request relating to a formal event will be offered a bearer letter for 2 x Premier Seating tickets (subject to availability).
Any other request relating to events such as raffles or prize draws will be offered a bearer letter for 2 x standard match tickets.
Cricket Derbyshire asks that all requests for support at sent in writing to Kerry Schofield or e.mail Kerry.Schofield@derbyshireccc.com, and provide details of the charity or fundraising event.
Any charity that requests Gold Level support in terms of publicity or endorsement will be invited to apply to be one of Cricket Derbyshire's official charities for 2015.  This can be done by writing to Cricket Derbyshire detailing their request and demonstrating the work of the charity as well as their work in the Derbyshire Community.  Letters of application should be sent to Cricket Derbyshire's Director of Partnerships:
Ryan Duckett
Head of Commercial
Cricket Derbyshire
The 3aaa County Ground
Nottingham Road
Derby
DE21 6DA 
⃰ Please note Cricket Derbyshire refers to both the Club and the Board
*The term partner includes sponsors, advertising partners, affiliated clubs and individuals