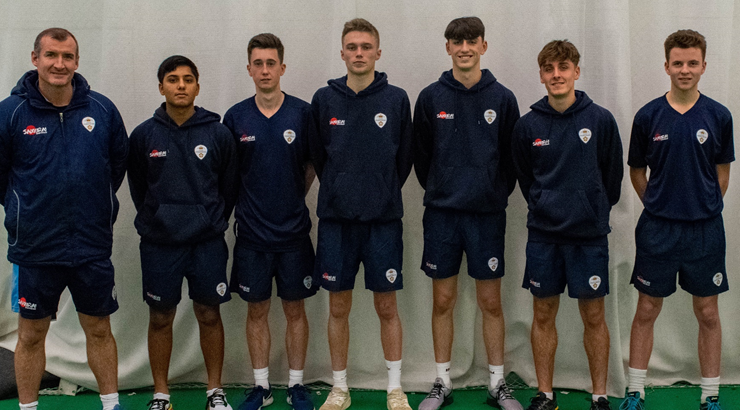 Left to Right: Mal Loye, Anoop Chima, Adam Peat, Jack Redman, Nils Priestley, Josh Lacey, Nick Potts
The Cricket Derbyshire Academy in partnership with the University of Derby has announced its intake for the development pathway for 2018/19.
The Academy, headed up by Head of Development Mal Loye, will see the Club working directly with young cricketers from the age of 13 upwards at The County Ground.
The Academy intakes will work closely with the former England international, while Head of Cricket Dave Houghton and Assistant & Bowling Coach Steve Kirby will also play key roles across their entire development pathway.
In total, eight Academy graduates featured for the first-team in 2018, while Sam Conners went on to sign his first professional deal ahead of the 2019 season.
This year's intake includes six Academy members, who have been identified and recruited by Loye in consultation with Houghton, the Club's coaches, Derbyshire Cricket Board and scouting network across Derbyshire and Staffordshire.
Adam Peat, Jack Redman, Nils Priestley and Josh Lacey continue into their second year on the Academy, while Anoop Chima and Nick Potts join for the first time.
Loye said: "We've worked hard alongside the Derbyshire Cricket Board and the league set-up in Derbyshire and the wider region to identify young players aged 13 and up to join our Academy.
"Our aim remains to produce talented cricketers who can progress and win games of cricket for Derbyshire and eventually go on to play for England.
"Dave [Houghton] is keen to work across the Academy and all age groups through to the first team as we bring the pathway closer together and give Academy players a greater chance to progress.
"It is important that these lads can see their route to progress, and by having access to experienced coaches, as well as support sessions from current first-team players."
Academy Intake 2018/19
Anoop Chima
Adam Peat
Jack Redman
Nils Priestley
Josh Lacey
Nick Potts