Derbyshire will face Yorkshire at Queen's Park twice in 2016 after it was announced that the Royal London One-Day Cup fixture on Sunday 12 June will be played at the picturesque outground.
The local rivals will also square up during the traditional Chesterfield Festival at the height of the British summer with their NatWest T20 Blast clash on Sunday 10 July sure to be the highlight of the week-long Festival.
The Festival begins on Sunday 3 July with the visit of Northamptonshire in the NatWest T20 Blast who will then face the hosts in a County Championship match, beginning the following day.
The fixture with Yorkshire Vikings to round off the Festival was a complete sell-out in 2015 with over 4,500 spectators packed in and the Club is anticipating another full house this time around.
In 2015, the Falcons tasted success versus the Vikings after having played out a well-fought draw with Glamorgan in the LV= County Championship and suffered a narrow Twenty20 defeat to Northants Steelbacks the previous Sunday.
Watch the video below for just a taste of what you can expect at the Chesterfield Festival of Cricket in 2016…
After the new deal to return to Chesterfield for five years was announced, Chief Executive Simon Storey said: "The Chesterfield Festival of Cricket is a highlight of Derbyshire's cricketing calendar every summer.
"It was a record year at Chesterfield in 2015 and we're delighted to now be able to offer even more cricket at the picturesque ground next summer.
"The support has always been great at Queen's Park, especially for the local fixtures against Yorkshire. A lot of away supporters travel down from north of the county border creating a unique atmosphere and a special event for Members and supporters.
"The NatWest T20 Blast fixture in 2015 was a complete sell out and we're expected similarly high-interest for both matches in 2016."
Chesterfield Fixtures in 2016
Derbyshire Falcons vs Yorkshire Vikings
Royal London One-Day Cup
Sunday 12 June
Derbyshire Falcons vs Northamptonshire Steelbacks
NatWest T20 Blast
Sunday 3 July
Derbyshire vs Northamptonshire
County Championship
Monday 4 July to Thursday 7 July
Derbyshire Vikings vs Yorkshire Vikings
NatWest T20 Blast
Sunday 10 July
---
Directions to Queen's Park
Queen's Park
Boythorpe Road
Chesterfield
Derbyshire
S40 2ND
Directions from Derby to Queen's Park Courtesy of AA Route Planner: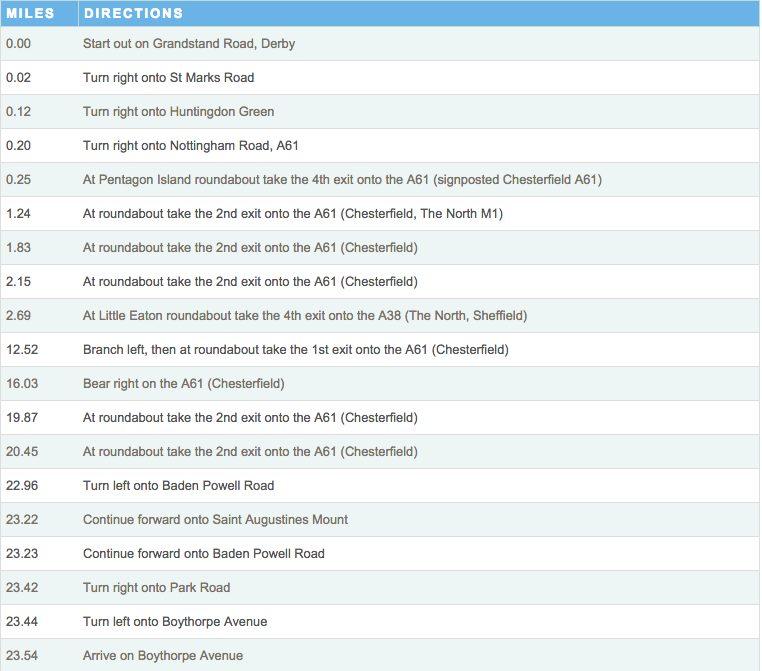 For more information about the Chesterfield Festival of Cricket, please call 0871 350 1870 or email info@derbyshireccc.com.