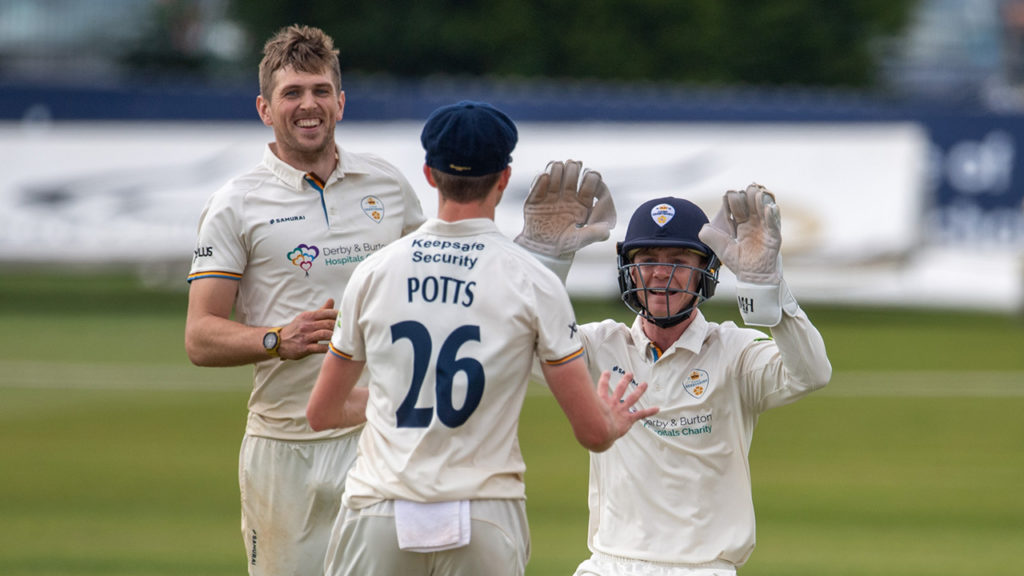 Members' Hub
Here's all of the information you need about 2022 Membership in one place.
This page will be updated throughout the season to reflect the most up-to-date FAQs based on the latest government guidelines.
For more information, email [email protected].
---
Member Priority
As a Derbyshire Member you are at the front of the queue for all formats of cricket and as ever, everyone at the Club would like to thank you for your support.
Please take the time to read the below information, which includes important details regarding your Membership.
---
Spectator Code of Conduct
To assist our staff and stewards, and to help protect you and your fellow spectators, you are required to follow the below guidelines when visiting our home venues. These measures meet the requirements of current legislation, guidance from the ECB and Safety at Sports Grounds (SGSA) regulations.
We kindly ask that supporters are patient with staff and each other as we work to ensure a safe and enjoyable experience for all.
---
Members Area, Exclusive Content & Shop Discount
Simply follow the steps below to create your Derbyshire Digital account, FREE to all Members, featuring exclusive interviews and more.
To receive your exclusive Members' discount in the new online shop, you must be logged in to your Derbyshire Digital Account. This is the same account you use to access exclusive web content on derbyshireccc.com (not the account used to purchase Membership online).
Once logged in, you will find your exclusive code in the Members Area dashboard via My Account, as well as a link to the new Online Shop. Simply add your products to the basket and enter your code at the checkout to get 10% off all purchases.
Members: How to Register for Derbyshire Digital
Simply follow the steps below to create your Derbyshire Digital account, FREE to all Members, featuring exclusive interviews, discount codes and more.
Follow this link to the registration page: Click

HERE

to register. Please note this is a new initiative and requires Members to register the first time they access the service – the login is separate to the one used to purchase Membership on the ticketing website.
Complete all mandatory fields, including email and Membership number. Your Membership number is printed on your Membership card. Please note, this exclusive area is for 2022 and Life Members only. If you renewed your Membership from 2021, your Membership number remains the same in 2022. If you've joined as a new Member, or can't find your Membership number, please email

[email protected]

.
Once you've created an account, every time you login via derbyshireccc.com, you can visit the dashboard and view your exclusive Member content and discounts. Further features will be added in the coming months, with plenty of exciting developments planned.
---
150 Club Vouchers
Derbyshire Members who qualified for 150 Club vouchers after renewing for the 2021 season must use their vouchers by 1 May 2022 (Day Four vs Glamorgan), after which they will expire.
The deadline was extended from September 2021 to allow for Members to use any remaining vouchers during the opening games of the 2022 season.
Should you wish to use your voucher to put towards a copy of the Club's 150th Anniversary book, A Celebration of Derbyshire County Cricket Club, which is on sale now, please email [email protected].
---
Members Guest Passes
Members are entitled to four guest passes, or five Incora Executive Lounge Passes for Executive Members, to be used at any LV= County Championship or Royal London Cup fixture.
Guest passes must be claimed in advance of the day of the game. Guest tickets will not be issued on the gates.
The total number of guest passes can be used across multiple matchdays, or all for one fixture.
Each guest pass ticket is valid for one day of play only.
Guest passes will fall under our 2022 Ticket Terms & Conditions.
To claim your Guest Tickets, please complete the below form.
---
Derbyshire vs Yorkshire: Vitality Blast (all-ticket match)
Members who wish to attend the all-ticket Vitality Blast fixture versus Yorkshire Vikings on Saturday 18 June at Queen's Park, Chesterfield, will again be required to claim their ticket in advance.
The initiative allowed the Club to generate an additional £10,000 ticket revenue in 2019 to support investment in both on and off-field areas, while Members who wished to attend were able to guarantee a ticket with a £10 refundable deposit.
This policy remains for 2022 and is detailed below:
Members are required to put down a £10 deposit to secure their ticket. If a Member attends the fixture, the full deposit will be returned automatically to the payment card within 10 working days, with no further action required from Members. Alternatively, the deposit can be claimed back on the day of the fixture. The deposit will be paid back via the same payment method.
If a Member fails to attend the match, the full deposit will be lost. The Club must be informed before 5pm on Friday 10 June if a Member can no longer attend. In this instance, the full deposit will be returned. Any requests after this date will be accepted at the discretion of the Chief Executive.
Entry will strictly not be permitted to any Member without a valid match ticket.
Members' Tickets can be claimed either;
• Online at dccctickets.com (Members must be logged in via the same details used to purchase Membership online)
• From reception at The Incora County Ground; Nottingham Road, Derby, DE21 6DA
• By calling 01332 388 101
Members are guaranteed a ticket before 1st May. All remaining tickets will go on general sale after this date.
For more information about claiming tickets for the Yorkshire Vikings fixture, please call 01332 388 101, email [email protected] or visit reception at The Incora County Ground.
---
Members Lounge
We want to assure all supporters that your safety and enjoyment remain our main priority and our ground safety, cleaning and staff procedures remain the same as we all transition back to greater normality.
We ask all supporters to not travel to The Incora County Ground if they are experiencing any symptoms of COVID-19.
2022 and Life Members will be able to use the exclusive Incora Members Lounge as an indoor/balcony viewing area, while catering and bar facilities will be available. Please have your Membership Card ready to present to the steward upon entry.
Please note, the Members Lounge, as with seating around the ground, is unreserved and we kindly ask Members to not leave items unattended on seats/benches.
Incora Executive Members will have exclusive use of the Incora Executive Lounge, while the pre-order system for hot food, via our new Tell The Chef system, will continue to be in operation. Executive Members will be sent an email with details of how to do this. For any issues linked to pre-ordering, please email [email protected].
---
Matchday Guide
As we begin to countdown to a packed summer of cricket, Derbyshire will once again provide an updated Matchday Guide for all supporters ahead of each fixture.
These will contain the most up-to-date processes and will be emailed to Members, while they can also be viewed online.
For all accessibility requirements, please contact us on 01332 388 101 (Monday to Friday between 9am and 5pm) or email [email protected].
---
Membership Guarantee
All 2022 Membership renewals and purchases will be protected by our Membership Guarantee.
Should the season be impacted by the coronavirus pandemic, Members will remain our priority for entry throughout the season. If coronavirus restrictions return and matches take place behind closed doors, Members will receive up-to-date information from the Club regarding the options open to them.
The health and safety of all visitors remains our first priority. Ahead of 2022 season, we will provide updates on health and safety measures via our website and email.
---
Cashless & Reducing Paper Waste
Derbyshire operates a cashless policy across all Club-managed points of sale on site – from ticket gates, to catering.
There are two reasons for this, the first being a proven increase in the speed of service when accepting card payments only and the second being hygiene as part of our commitment to keeping spectators and staff safe during the Covid-19 pandemic.
The Club would like to thank Members for their understanding and co-operation as this policy was successfully rolled out in 2021.
All of our catering and bar tills will accept all major debit/credit cards, as well as contactless payment options, including Apple and Android Pay.
The Club will also be continuing its aim to reduce paper waste in 2022 and as such will not be printing matchday scorecards, the appetite for which has lessened in recent seasons due to improved online Match Centres across the game.
Supporters can download a blank scorecard template via the Matchday Guide page.
---
Contact us
If you would like to know more about your 2022 Membership, or have any other queries for us, please don't hesitate to call the Club on 01332 388 101 or email [email protected].
We aim to respond to all email queries within 72 hours, but please note that our phone lines can get very busy and we ask that all non-urgent enquiries are emailed to [email protected].