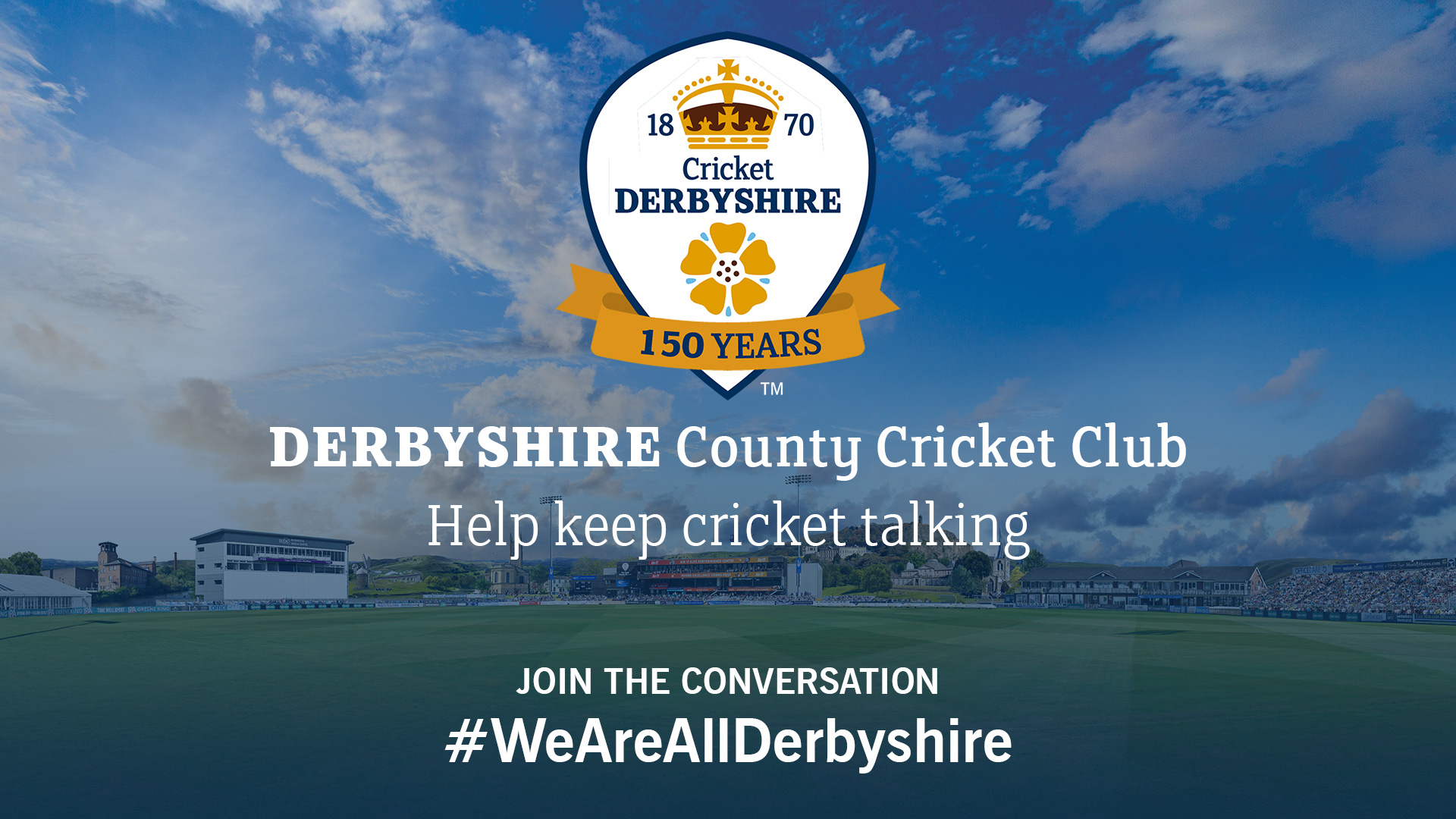 2020 is the year in which Derbyshire County Cricket Club marks its 150th anniversary. With foundations built on heritage, community and loyal Members, the club thrives on its support.
During these challenging times for all, we want to help keep everyone associated with the club and wider community positive and engaged. We're in this together and Together, We Are All Derbyshire.
Our Members, supporters and stakeholders are vitally important to the club and we want to give back where we can – whether that be providing you with new and exclusive interviews, re-living the club's greatest moments, or hearing about your favourite moments.
The cricket community is well-renowned in sport for its spirit and togetherness. As part of the new Together, We Are All Derbyshire campaign, we'll be encouraging all supporters to get involved via social media, email, or phone to talk about cricket and engage with each other.
We'll be producing a variety of content tailored to what supporters want to read, watch or discuss.
Have your say
Is there a player you wish you'd seen in Derbyshire's history? Would you like to know more about their career?
What's the most memorable fixture you watched live?
Is there a game you'd like to re-live in the Twenty20 era?
Is there a current player you'd like to find out more about?
Is there an out-ground you'd like to know more about?
What happened on your birthday? Do you share it with a Derbyshire player?
What's your favourite away venue?
As well as your suggestions, we'll be providing further;
Interviews with current players
A history of Derbyshire's home ground
Features on winning moments
Statistical reviews & heritage articles
Polls and your favourite moments
Video clips & photos
How to get involved
Use the contact form below to get in touch with your questions, features you want to read, and to share memories of cricket in Derbyshire.
Alongside our Heritage Officer, the club will be working to provide the content you want to see and we'll also share a selection of your stories on our website and social media.
Join in on social media, tag friends, email or phone the club via the details below and we'll aim to feature as many of the discussion points as possible.
If you would like to remain anonymous, please let us know in the body of the message.

Memorable Moments
As part of the Together, We Are All Derbyshire supporter-driven initiative, we're going to be showing a selection of highlights, as well as full-length streams from great matches over the past few seasons.
From T20 classics, to all four days of red ball action, there will be a variety of matches available to watch on Derbyshire's YouTube channel.
Click HERE to find out more and watch our Memorable Moments videos.
Message from our Captain
I wanted to take the opportunity on behalf of Derbyshire County Cricket Club to reach out and wish you well at this difficult time.
As much as we will miss the chance to get bat on ball at the start of the season,the sport must put the safety of everyone involved first.
At Derbyshire, we thrive on the backing of our supporters and it's been so rewarding to see the strides we've made. Cricket will be back when it's safe to do so and the whole squad can't wait to get out there and entertain supporters.
In the meantime, the club are actively encouraging Members and supporters to engage on social media, online at derbyshireccc.com, over the phone, or via email. Cricket brings people together and now more than ever, we can harness that joy for the game to help keep people connected at this time.
Billy Godleman
Club Captain
Support for Communities and Local Clubs
Derbyshire Cricket Foundation (DCF) has set up a COVID-19 hub for updates and support across the recreational game. Click HERE to access the hub.
A number of initiatives have been launched in Derbyshire across the professional and recreational game. To find out what's happening in your area and to support your local team, visit our Community Fundraising page HERE.
Latest Government Advice
Derbyshire County Cricket Club continues to work closely with the England & Wales Cricket Board and take advice from the government during the developing COVID-19 situation.
Click HERE for the latest government and Public Health England advice.
Those with symptoms (a high temperature, or a new, continuous cough), should use the NHS online coronavirus service. Click HERE for more information.
Together, We Are All Derbyshire. Share memories, favourite moments and engage with fellow supporters. Get in touch on social media, at [email protected], or call 01332 388 101.