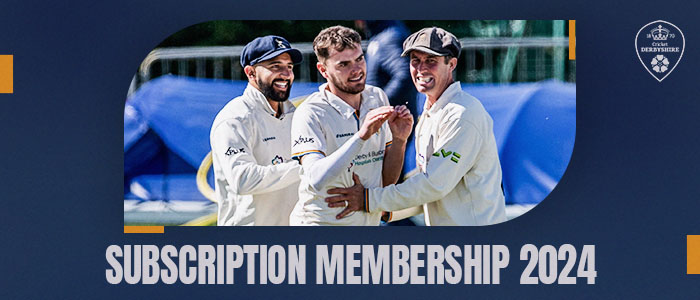 Subscription Memberships 2024 – New for next season
Derbyshire County Cricket Club has introduced a new method of paying for Memberships which will allow supporters greater flexibility when joining for the 2024 season.
The introduction of subscription payments, which follows Member survey feedback, will allow supporters to pay for a Membership in instalments between October and March and replaces the Club's previous Direct Debit one-off annual payments.
Derbyshire has partnered with Zoho Subscriptions, to offer payments in three and six month instalments*, which are quick and easy to setup.
*All subscriptions must be paid for before the start of the season. As such, the six month option is only available in October 2023. Not valid for the Priority Price Freeze.
Follow the links below to sign-up for a subscription Membership in just a few clicks.
For further details, please contact [email protected].
Club Membership
Join as a Club Member and enjoy a packed summer of cricket, plus a host of added benefits, from £225 when joining via a subscription.
Executive Membership
Upgrade your experience and enjoy access to the exclusive Incora Executive Lounge, from £540 when joining via a subscription.
Executive & Partner Membership
Bring a named partner to Derbyshire next season and save with Executive & Partner Membership.