In a first interview of its kind, get a unique insight into Kim Barnett's remarkable Derbyshire career, as he opens up about his 20 years with the county.
The interview, which includes never-before-published accounts, is exclusive to Derbyshire Members until 28 June.
Kim Barnett is one of Derbyshire's most successful cricketers.
He played more games (813), scored more runs (36,212) and more hundreds (66) than any other player in the club's history. He is the only player to win three trophies with Derbyshire, two of them as captain. He played Test and One-Day International cricket for England.
His runs tally for the county is twice that of every other player bar one – Denis Smith – who scored 20,516.
He played in four Lord's finals for Derbyshire and was captain for 13 years – both records. He scored 1,000 first class runs in a season 15 times – another record, while he scored over 2,000 runs in all formats on seven occasions – the next best is Peter Bowler, who did it four times.
It seems likely that the bulk of his records will remain for as long as the game is played.
And yet, he didn't score a hundred for almost four seasons from his 1979 debut, finally scoring 120 against Warwickshire in his 97th first-class innings spread over 68 matches.
Heritage Officer, David Griffin, followed Barnett's Derbyshire career from the boundary, and in this interview, Barnett talks about his 20-year career with the county.
The path from Staffordshire to Derbyshire is well-trodden, but not all Staffordshire-born cricketers end up at Derbyshire. How did you arrive at Derby back in the late 1970s?
I didn't really play much in the seconds at Derbyshire, although I'd played for Warwickshire and Northants seconds since I was 13. I was a leg-spinner, small in stature and nobody rated my batting. Warwickshire batted me at number eleven and offered me a contract as a leggie; as did Northants. Warwickshire had a strong Second XI and they never gave me a sniff of a bat other than at number 11. I was the only one who thought that I could bat.
In the meantime, Bob Taylor heard that I hadn't signed for either county and offered to take me to Derby. I went on tour with England Schools to India and then with Young England to Australia in 1978-79 and came back as a batsman having won Man of the Series.
But before I went to Australia, Eddie Barlow had seen me bowling leg-spin during the 1978 season – his last at Derbyshire – and offered me a contract on the same basis as the offers from the other counties – as a leg-spinner.
The team you went into contained a lot of local cricketers, Test players like Steele, Taylor, Hendrick, and Miller and also two fine overseas players in Kirsten and Wright. What was that introduction into the county game like for a 19-year-old?
I was quite naive and had been a keen semi-pro footballer and was actually more interested in football than cricket. But I didn't know who people were in cricket. I remember playing Yorkshire at Chesterfield and going into the dressing room after batting and saying that I thought the chap at the Lake End wasn't a bad bowler. I had to be told that I'd been facing England's Chris Old. The rest of the team were amazed that I didn't know who he was. I think that helped in a way, because in a 1979 pre-season game we had a first eleven versus second eleven game and I took Hendo (Mike Hendrick) and Steeley (David Steele) on without really knowing much about either of them. After that game, Steeley told me I was in the first team.
You became one of the most outstanding opening batsmen in the country, but to begin with you batted in the middle order as Borrington, Hill, Wood and Wright all occupied the top spots. Did you see yourself as an opening batsman-in-waiting?
No not really, I enjoyed fielding, running around, and smashing it in the middle-order. Wood (Barry Wood) told me that I had no chance of batting higher up the order because I lacked the technique to open the innings. Kirsten (Peter Kirsten) had suggested to Wood that I open with Wrighty (John Wright), and I got a hundred against Colin Croft in a one-day game at Derby opening with Wright. Wright and Kirsten were so supportive in my development at the top of the order and I was fortunate to have them backing my wish to bat higher up.
You batted 96 times in first-class cricket for Derbyshire before scoring your maiden hundred, a record unlikely to guarantee a contract in the modern game. What advice were you being given and by whom as a young cricketer and were you ever concerned that you weren't good enough to succeed?
I wasn't bothered because I played the game that way, I got 96 in my fifth match but gave it away caught at cover. That's how I batted – see the ball and hit it. But because the batting line-up was strong my job was not to build an innings but to play strokes. I also had time to learn my trade because the batting was strong, and nobody put pressure on me. I was basically learning my trade and that period was a great apprenticeship for me to watch players and listen to Steeley and other senior pros talking about the game.
As a young man, you played a significant part in Derbyshire's 1981 NatWest Trophy win. What do you remember of your first Lord's final?
Certainly, one of my most significant innings was in the semi-final against Essex after we'd been 30-4 – and that taught me that I could help to win a match when it mattered. That's really important because having played a match-winning role once, you're prepared for doing it again. The final win was a great thing for the club, not just the players. It was a fun time really as a young player without any pressure – that was on others!
You said to me a few years ago that Eddie Barlow was one of the people who had influenced your career and yet he left Derbyshire before you made your debut. How did Barlow come to have such an impact on you?
Well, Philip Russell had phoned Eddie and told him that I was the player he wanted developing in South Africa and that's how I ended up at Boland in 1982-83 with Barlow. He was my captain and he put me at number three in the order and I scored a lot of runs. He told me to play to my strengths, to look at my weaknesses, and talked about his own approach of not being fearful as a captain. We were 260 in front in one game and were batting together and he asked me when we should declare. I said we should add another hundred, get a couple of wickets that night and finish them off tomorrow. He declared immediately and we won. He knew that we had enough runs and he wanted to take the game to the opposition, regardless of the time left in the match. We'd net and if you were out, the net was over. It made you preserve your wicket. He was a great captain and leader.
When you began the 1983 season, was there any expectation inside the dressing room that Barry Wood was unlikely to stay in the role of captain for much longer?
Well, Barlow told me during that winter that I should go home and be ready for the captaincy, so he must have heard from England that the captaincy was coming. He even told me to say to the people at Derby that I actually wanted the captaincy. Roger Pearman came to me with Charlie Elliott and Guy Willatt and offered me the job. I think Miller (Geoff Miller) was expecting to get the captaincy back, because he suggested to me that I could be the vice-captain. I told him that the club had been talking to me about the captaincy, but he clearly wasn't aware of that.
Once you got the job, what ideas did you have about the kind of captain you wanted to be and what sort of cricket you wanted your team to play?
Just the Barlow way really. Do it my way, don't take any rubbish, lead from the front. That's what made me open the batting – I decided that I'd go up front and then no one can argue that you're hiding away down the order. I looked at the stats for the previous six years and examined how teams won games. It was really simple, bowlers needed to take wickets cheaply and quickly, and batsmen needed to score quickly and in an attacking way. So, the prime thing was getting a high-quality pace attack. We had pea shooters for bowlers and needed cannons.
What role did the senior professionals play in supporting you in your endeavours – you were, after all, only 22 and some of the players were almost twice your age, and many had years of international experience?
I had travelled with Bob (Taylor) since I started, and he told me straight to my face that he thought I was too young to take the job. I disagreed with him and once I got the job, he was fantastic. A perfect senior pro, best keeper the world has ever seen and supported everything I did. I wanted to do it my way and I asked the players not to undermine me. On the surface I didn't feel undermined at all and only received support.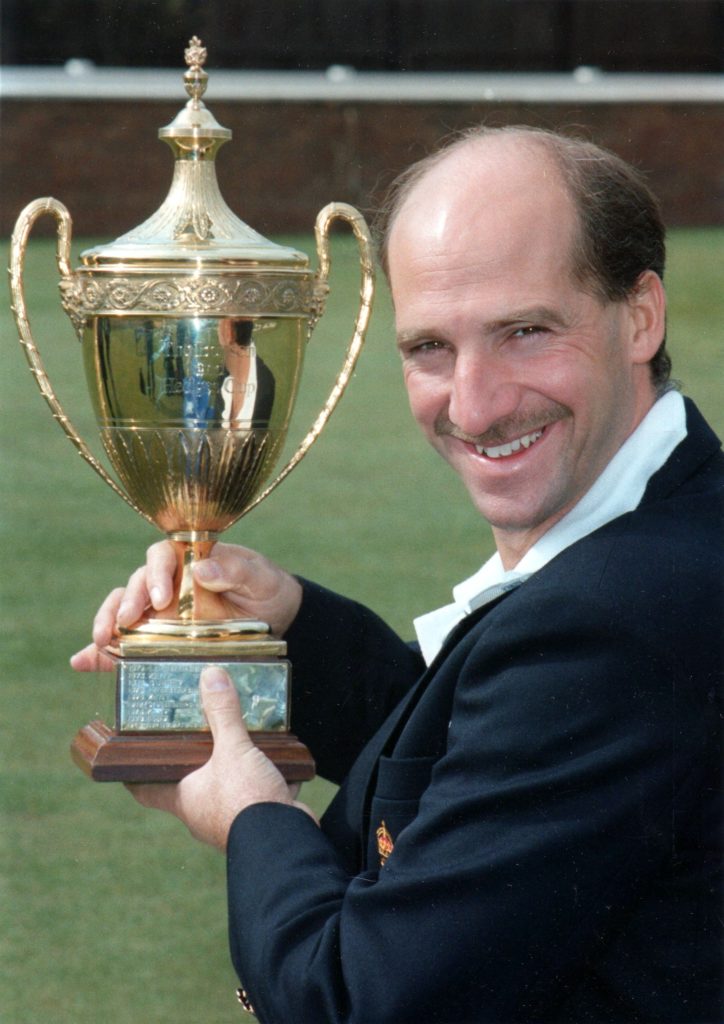 You were clearly a tough competitor on the field; how did that inform the type of cricketer you sought to introduce to your teams? Clearly talent was important but how vital was character?
Yes, well I trusted Philip (Russell) with his approach to the game – a pipe and a pint in the bar, talking cricket and great at recruiting – Peter Bowler was as good as any English-qualified batter in England. I wasn't the best communicator – that was what Philip was good at. I led it up front and we bounced the opposition and played shots. That was my dynamic and Philip was the perfect foil. After a year, the club wanted to sack Philip and I said that if Philip went, then I'd resign. We were a pair as far as I was concerned. They withdrew the decision. Michael Holding had been signed while Wood was captain, Mortensen was a wild quickie but became an outstanding bowler and they were strong characters. Michael mentored Devon (Malcolm) and Jack (Allan Warner) – we were going in the right direction and we started to make people fearful of playing Derbyshire which was what I wanted. We wanted respect from other teams and didn't want to be a rubbing rag.
You were part of what would today be termed a 'management team' – you, plus Phil Russell and Guy Willatt, in particular; what was the role of the group?
Guy was blunt and matter of fact, he knew his stuff. He could be critical with me, but in a very sensitive way. He would question my approach but never, ever wavered in his support for what we were doing.
Your own batting stepped up significantly when you moved up the order to open the innings and it's well-known that you thrived on facing fast bowling. What was the challenge of facing world class fast bowlers almost every day actually like?
I think I just got my mindset right. There was a fear factor – there has to be facing Donald, Akram, Imran, Hadlee – but I wasn't there to be timid. I might not be good enough and I got my off pole knocked out plenty of times. But if they bowled me any rubbish, I'd happily smash it. Malcolm Marshall never spoke to me on the field – Robin Smith said it was because Marshall knew that I was combative and would happily go after him. I had to try and dominate as per Barlow's mantra. We had Bowler who was happy to stay in, and Bud Hill, likewise. But John Morris, Chris Adams, Bruce Roberts, Steve Goldsmith and Tim O'Gorman would all happily attack. I knew I wouldn't be good enough if I did anything other than take the attack to the bowlers.
There were some early on-field setbacks for your side, but on the whole Derbyshire were competitive and in 1988 reached the Benson and Hedges Final on the back of some fine performances in the earlier stages but were well beaten by Hampshire. Despite the defeat, what was it like going back to Lord's for that final as captain?
Well I thought that we were favourites and the toss was a disaster as it had been for some time in Lord's finals. The pitch had been watered and Michael (Holding) was convinced that we would have won had we bowled first. Jefferies got five wickets and we just ended up disappointed, but it was a learning curve – the toss was what it was – and we had to take it on the chin. We'd gone from 1983 to 1988 and were getting better.
You were selected to play for England in both Test and One Day International matches at a time when competition for places was strong. Did you expect to play more international cricket than you did?
Not really, I was 28 – Gooch, Gatting, Broad, Gower, Lamb, Smith, Maynard, Athey, Robinson – there was some competition, and we were all brought up against world class overseas fast bowlers in county cricket. I got 80 against Australia but I always felt that first chance they got, I'd be out, and the regulars would return.
As the 1980s ended, so Derbyshire said farewells to John Wright and Michael Holding, Derbyshire's two longest-serving overseas players, and although you brought in Ian Bishop for Holding, you went for an all-rounder to replace Wright. What did you know about Adrian Kuiper before he arrived at Derbyshire in 1990?
Not a lot. The unfairness of not being able to play both overseas at the same time was outrageous. Notts could play Hadlee and Rice and Hampshire could play Greenidge and Marshall – if only we could have played Wright and Holding together. We went for Bishop for the championship but wanted an all-rounder for the one-day stuff. I went on the rebel tour to South Africa and he scored a 48-ball hundred for South Africa against us. I was quite pleased at that point that Philip had made what seemed like a good decision. Bishop was crucial for red ball cricket though. With Kuiper, it was like watching Botham – the crowd loved him in South Africa, banging the advertising boards when he was batting. At Durban, Gatting asked me to bowl at Kuiper, and he put mid-on up and he clothed it straight to him. It never worked again! Kuiper was clearing 90-yard boundaries – the grounds wouldn't be big enough to contain him today.
Many observers rate the 1990 season as the high point of post-war Derbyshire cricket, because it saw the county win a league – always considered harder to do than winning a knock-out competition. Before that season began, were you confident that you'd assembled a side ready to win a trophy?
The winning of that league with 17 teams was very, very difficult. We knew we were as good as anyone else and weren't scared of anyone. We'd won a Bensons' quarter-final in 1988 against Middlesex – by nine wickets – so we knew we could beat the top sides, but we had to be more than competitive, we had to win some silverware.
You decided to utilise Peter Bowler as your wicketkeeper in the one-day games, presumably to give you more options over selection. Was that your thinking at the outset?
Well, we'd said that we'd play on flatter wickets at home in one-day cricket because we had the batting power – the opposite of the pitches we wanted for the championship. So, having Peter as a keeper with seam bowlers seemed the right thing to do as we knew he wouldn't have to stand up too much. But Peter was very competent, and it gave us more depth in the batting.
There were so many great days during that Sunday League campaign – the win at Hove when Kuiper and Adams went berserk; Kuiper's last-ball six at Taunton after you and John Morris had scored hundreds; your hundred against Kent at Chesterfield. But there were also great performances from Bowler – behind the stumps and with the bat, from Mortensen with the new ball, Allan Warner at the death, Base, Malcolm, and the rest all producing. What was it like for you as a captain, having shaped a side where everyone knew their job, and everyone stepped up at critical times?
I think in one-day cricket you need all eleven to step up – two weak bowlers is no use to you. You can get away with it in the championship, but there were no weak links and we chased some big totals. The run chase in the Kent game at Chesterfield when I got one of my more pleasing hundreds was remarkable. I got out and as Kuiper passed me on his way out to bat, he said; "Great knock, I'll finish it". Great player, great confidence. That was a complete team.
You were never a player who showed any emotion on the field, but can you explain how you felt when you stood on the pavilion balcony and raised the Refuge Assurance League trophy to the crowds?
I am a bit strange like that! We'd won and I just wanted to get on with the next game. I took every day as it came in 25 years in the game and tried to maintain an even keel. Barlow told me never to read a newspaper – he said I didn't need to read a paper to be told how bad I'd played. Ian Harvey encouraged me to embrace winning and enjoy it more when I got to Gloucestershire. But for me, at Derbyshire, I just wanted us to do well and see our supporters celebrate. I think it mattered so much to our supporters and I enjoyed seeing them happy. But I did love winning.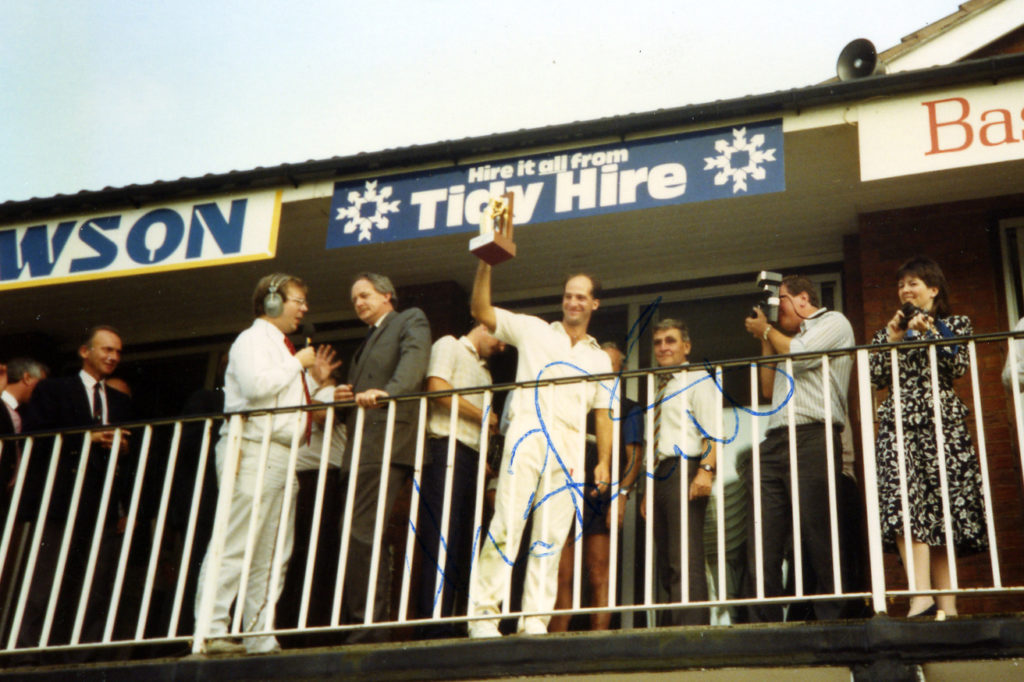 After winning that competition, presumably you were hungry for more, but you went for another world class batsman in Mohammad Azharuddin. What was your thinking behind that signing?
Yes, Kuiper didn't want to return and to be able to sign Azha was a big coup for us. He scored a lot of runs in a very short time although he started quite poorly. He struggled when the ball was doing a bit but once Azha got going he had that period when you knew why people had said he was impossible to bowl to. He went from 100 to 200 at Leicester while I scored eight at the other end. David Millns bowled two balls at him – identical – just outside off stump. The first went through backward point, the second went behind square on the leg side, both for four. Millns was perplexed. He stood with his hands on his hips and said; "It's like bowling at a revolving door."
In 1991, Derbyshire finished third in the County Championship, but seemingly lacked a top-class spinner for those games played on pitches which didn't necessarily suit our quick bowlers. How aware were you that – notwithstanding your own occasional successes with the ball – that Miller hadn't been replaced and that that could cost you?
We were searching for a slow bowler, but nobody wanted to bowl spin on our green pitches at home, so recruitment of a spinner was difficult. We played on some deserts away from home, but we could never get a quality spinner to come and bowl on our green pitches. At times, Miller actually bowled really well on green decks at Derby. But we never managed to get that spinner to replace him.
Ian Bishop was a fine fast bowler, and particularly in 1992, when Derbyshire finished fifth in the championship, he bowled like the wind in taking 64 wickets at 17. Bishop's career was halted by a back injury, but how good a bowler was he?
He would have been one of the greats – many old pros have since told me that he was the quickest of them all. He was ferociously quick and straight and got the ball to bounce off a length. If he hadn't been injured, he could have been the West Indies' greatest-ever.
A young man by the name of Dominic Cork entered the fray in 1990, and soon made his mark on county cricket with 8-53 before lunch on his 20th birthday. What expectations were there within the camp about this young talented cricketer?
I knew that he could play – he was physically quite weak as a youngster, but he had a bit of edge and clearly was talented. Graham Gooch earmarked him early on as a good player – we just had to be careful about not over-bowling him. We didn't want to break him, so we developed him slowly. He broke through as he did because we took time with him. And we did the same with Devon – we introduced him slowly and ensured that he could have a lengthy career.
By 1993, you had a side packed with experience, a top four as good as any in the county's history, with a pace attack for all conditions, and a high-quality wicketkeeper. Did you sense that after two good seasons in the championship, it was time to add another trophy while you had these maturing, and in some cases, mature, cricketers all performing at the height of their powers?
I think going back to what Barlow said – you get what you deserve. We finished third and fifth in the championship because we had no spinner. But we were a good all-round side and could play all formats and we expected another trophy because we had a good enough side.
Losing Bishop after only one game was a blow, but you reached another Lord's final after a comprehensive victory over Northamptonshire at Derby in June 1993. For a player like you, involved in nail-biting knockout matches, an eight-wicket win must have been a pleasure?
I remember it – it was a very hot day. It was fantastic to do it so easily, that was a bonus, really, to win so emphatically. We had no overseas player, they had Ambrose! You weren't expected to compete without your own overseas player.
And so, to Lord's again – Lancashire were your opponents in the Benson's final. They were acknowledged as the one-day kings of English cricket; how did you approach games going in as the underdog?
Again, the ingredients were all there for an upset. We felt there had been an injustice over the condition of the ball during the championship game against Lancashire at Derby earlier in the season, and we were extremely determined to win that final. We were happy to have to fight; when we went out to practice at Lord's we agreed as a team that in the nets we would be bristling and making it clear that we were there to win. Morris, Bowler, Adams, Mortensen – these weren't weak individuals – and Cork – sticking their chests out in the nets and making it clear that we were there ready to take them on.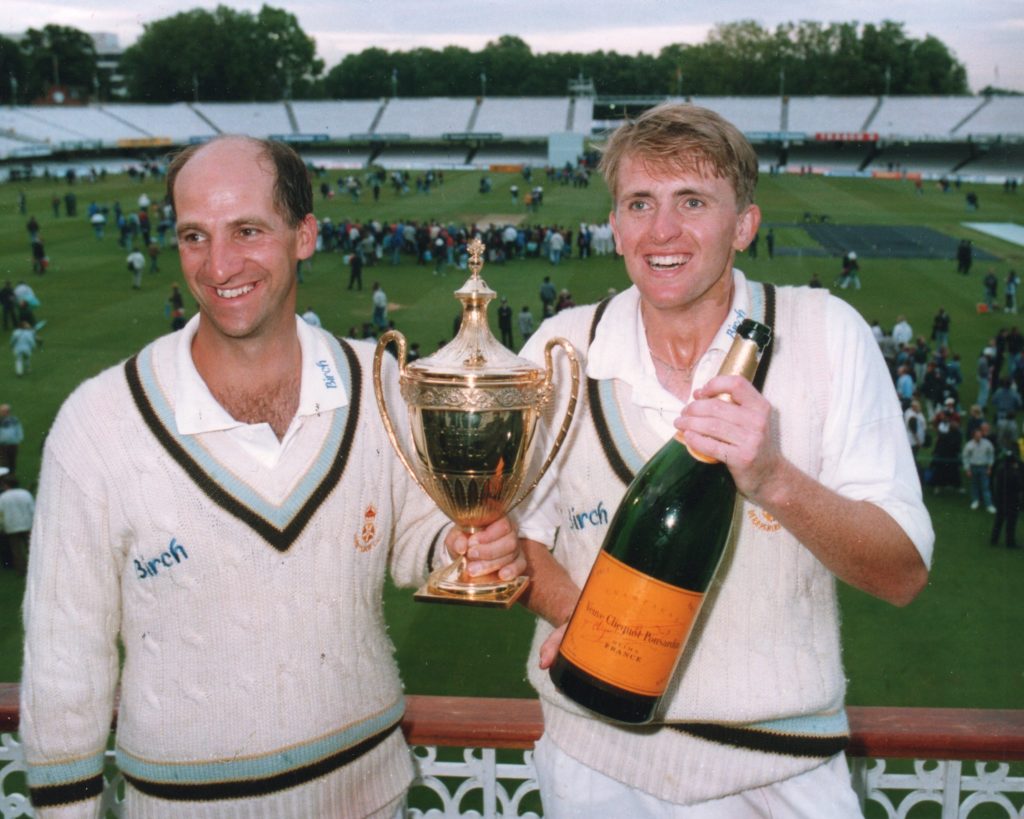 You have previously said that there's nothing like Lord's finals; that they are what you play the game for. What was that day like for you, from arrival to holding the cup aloft?
It wasn't very pleasant being 66-4 but we never gave up and I knew that our lower order would at least give it a go and we had a decent bowling side. But Cork, O'Gorman and Krikken transformed the game and Cork's innings was one of those great Lord's finals occasions. Akram had a terrible game – Corky got them where he wanted them. And then Frankie Griffith bowled that final over – we only had five bowlers, remember, and I look back at that game as my finest – tactically – as captain. I needed Devon to bowl at Fairbrother, and Atherton helped by batting slowly. I said to Frank at the start of the final over that if we lost it wouldn't be his fault. He knew he was going to bowl up in the block hole – he could do that – so I said, "I'll leave it with you." I just backed him, and he delivered. I look back now and think it was an amazing victory – my main memory though is of the Lancashire players faces on the balcony when I got the trophy – they were absolutely devastated and couldn't believe that we'd beaten them. There was a time on the field when all I could hear were Derbyshire fans, remarkable considering the Lancashire support. And I know Derbyshire fans who went will never forget it.
You would continue to captain the side for a further two seasons, but your coach, Phil Russell, had headed off to South Africa at the end of the 1993 season. How did that affect you as captain?
That's the time I should have packed up as captain. I was getting tired as captain and over ten years we'd done well. I tried not to show that I was tired and decided to continue. We'd recruited well and won trophies. That two years became hard work for me – there were other ambitious players in the team, and I probably did the job for two years too long.
Your batting through the 1990s seemed to get better – averaging 64 in first-class cricket in 1993, and twice scoring five first-class hundreds in a season. How did you maintain your levels of consistency?
People have often asked me that. When you go out to the middle you can focus on what you love doing and you're free to do your job. I didn't want to show any weakness on the field and always backed myself to dig in and keep going irrespective of anything else happening in my life, on or off the pitch. I was getting tired from the mental side of captaincy, but batting gave me a freedom which I didn't necessarily get elsewhere.
We mentioned earlier the joy of facing fast bowling, but was there a bowler – or more than one – who you didn't particularly enjoy facing?
John Lever of Essex. One of my best innings – that semi-final at Derby in 1981 – was against Lever. But when I opened the batting, I just couldn't get runs against him. I never scored a hundred against Essex until he retired! I even faced him in South Africa, and he got me out for nought. Of the out-and-out quickies, Macca was good fun – he got me out plenty of times, but I hit him for 16 in an over once. Bowler and Hill would back themselves to see off these great quicks, but I believed that attack was the way to go. I had good and bad days but enjoyed the good days against Ambrose, Marshall, Walsh, Akram etc – great adrenaline rushes combined with a bit of fear – it made for great cricket! I certainly didn't want to die wondering. I thank my lucky stars that I played in an era when such great bowlers were testing me, day in, day out. When I got to Gloucestershire, I couldn't wait to face McGrath because I wanted to test myself. He didn't get me out in nine innings', but I could see why he was so highly rated.
There were some players who decided to seek new horizons during the 1990s. How difficult was it as a captain to keep everyone happy in a side full of experienced cricketers?
It was said that I favoured my bowlers; longevity was in their favour because we played on pitches which favoured the ball, and that ethos had been successful. I didn't think flatter tracks would enhance our cricket. Some thought I was inflexible, but we never had the spinner we needed on flatter pitches. I was fairly stubborn about maintaining our approach on green pitches and I could have done it differently, but would it have worked? That's why I said I should have given up the captaincy in 1993.
When Dean Jones and Les Stillman arrived in 1996 there was much optimism at Derbyshire. Although Bowler and Morris had departed, DeFreitas and Wells had been recruited, and with you, Adams, Cork, Krikken, Malcolm and Rollins to the fore, as well as Jones, that summer saw Derbyshire almost secure the County Championship, finishing second to Leicestershire, with you scoring almost 2,300 runs in all formats. What was that summer like, your first without the captaincy role since you were 22?
It was fine really. I backed myself to score runs but there were going to be clashes in that dressing room and many have assumed they would be with me. But I am fairly quiet actually, and there were egos involved – a lot of high energy players around – and eventually, when it came to the crunch, I decided to back Cork and DeFreitas – both great cricketers and competitors. It was a great season, and my first innings under Jones was 200. I got on with Jones, we played golf together but there was stuff going off behind the scenes.
In 1997, things fell apart on and off the field at Derbyshire. Did you sense that things were disintegrating and also that your own career at the club was close to ending?
Yes, I knew I had to go and finish elsewhere. Derbyshire didn't want me to get involved with the winter of discontent in 1998-99, and it was suggested that I should leave. But I did get involved and to be fair it all seemed logical for me to depart. Middlesex, Yorkshire, and a couple of others were interested but I liked the idea of Gloucestershire – they were another underdog team and we had some remarkable times there.
You played alongside some fine players at Derbyshire. Which ones stand out for you?
Overseas – tight call, but Michael Holding was outstanding – on and off the field. I'd loved to have had the young DeFreitas alongside the young Corky at the same time – Cork could win matches that no-one else could win. Morris, Bowler and Adams were outstanding, and Mortensen was the best bowler I've ever seen not to play Test cricket. He got the great batmen out.
You never seemed to give too much credence to your own records and statistics, but you must have a sense of pride in setting so many batting and captaincy records that are never likely to be overtaken. What were the high points of your Derbyshire career from a batting perspective?
Winning matches was key, so scoring runs when winning matches mattered most. I got 200 against Notts at Derby after following on, but the 239 against Leicester was a waste of time. You couldn't get out if you tried. But the '81 semi-final, Kent at Chesterfield in 1990 – matches where I had to do well, they stand out as meaning something in the overall scheme of Derbyshire winning something. The best innings were when the game was hardest. A hundred on a flat pitch at Taunton was fun but often pointless.
I recall you batting against Kent at Folkestone in 1985 and scoring 14 in 50 overs to save the game against Derek Underwood. I think Derbyshire made about 70-7 in 90-odd overs in a day. As a dynamic stroke player, how much satisfaction did an innings like that give you?
I think the team did exceptionally well – Cowdrey set us 250 in 70 and I told him we had no chance against Underwood on that deck. Michael Holding even blocked it that day. It did give me satisfaction because we didn't want to throw the match away chasing a daft target. It was weird batting that long for so few runs though.
As you reflect on your career, what regrets, if any, do you have about your time at Derbyshire?
I consider myself very fortunate to have captained the side and to have had some success. We became a side which was respected around the circuit and that was my first priority; and then having made ourselves competitive and capable of mixing it with the big boys, we started to win trophies. My biggest enjoyment was putting 400 runs on with Tim Tweats against Yorkshire and never leaving the field for the entire game – and beating them. In terms of regrets – nothing in terms of how we went about playing. I could occasionally have played a different way, but I worked hard and took on board the failures and continued to try and learn as a cricketer.
And if you could have one of your great days in the sun, just one day to re-live once more, which one would it be?
Winning the Sunday League at Derby and seeing all those people from the balcony – smiling faces – that's what it's about, Derbyshire the best team in the land and seeing just what it meant for those people supporting us.
Get involved!
Our Members, supporters and stakeholders are vitally important to the club and we want to give back where we can – whether that be providing you with new and exclusive interviews, re-living the club's greatest moments, or hearing about your favourite moments.
Join in on social media, tag friends and contact the club via the form below and we'll aim to feature as many of the discussion points as possible.
If you would like to remain anonymous, please let us know in the body of the message.
Together, We Are All Derbyshire. Share memories, favourite moments and engage with fellow supporters. Get in touch on social media, at [email protected], or call 01332 388 101.