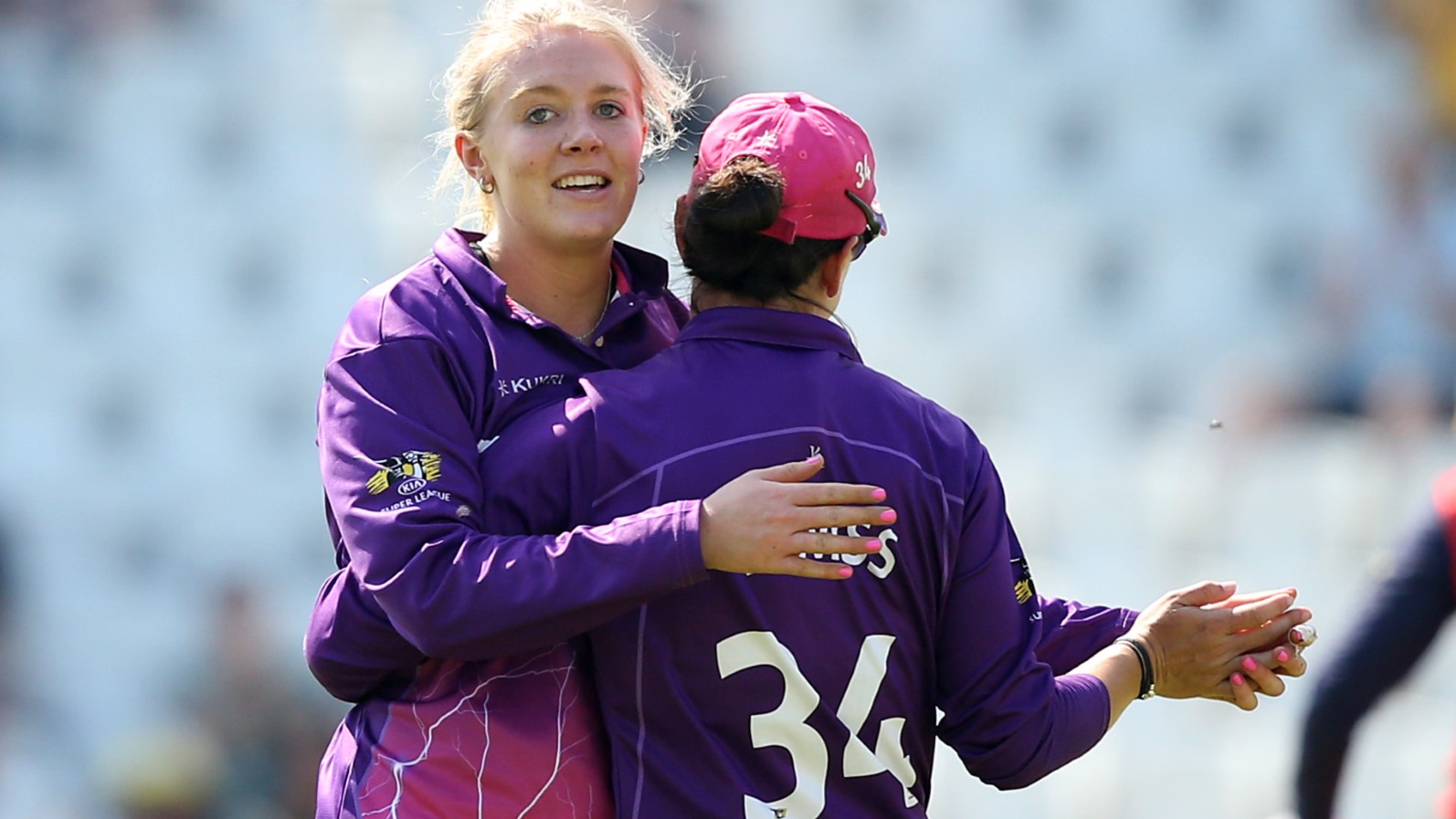 Sarah Glenn discusses her rise to becoming an England international in an exclusive interview with The Cricketer.
Where were you when England beat India at Lord's in 2017 to claim World Cup glory on that most remarkable midsummer afternoon?
Few occasions are granted this status – the kind that merits these recollections years after the event. But then, few moments carry such game-changing significance.
Sarah Glenn was there, one of many dreamers packed into a jampacked crowd at the sport's spiritual home, one of 26,000 who will forever be able to anecdotally recount the events of July 23, 2017. That figure will rise with time; many who weren't there will claim they were. It is the nature of the beast.
She sat with two friends and their families, cheering on a team full of idols – a group of which she is now part. A 20-year-old living a childhood vision, cricket is lucky to have her. They promised this would happen – those inspired by what they witnessed that day breaking through, desperate to share in those experiences.
A year earlier, Hollie Webb flicked the winning stroke past Netherlands goalkeeper Joyce Sombroek as Great Britain won hockey gold at the Olympics – a first for the women's team. It became one of the defining images of the Games for the home nations. Where were you, I repeat?
Two of the most significant moments in the recent history of women's sport, both left a lasting impression on Glenn.
The Derby-born leg-spinner is different – not quite unique, but not far off. Only a miniscule percentage of the population is sufficiently talented to represent its country in one discipline, let alone two. And while English cricket has won the rights to Sarah Glenn, it faced some considerable competition from hockey. She played internationally at junior level, before committing to cricket – continuing with both at such a high level simply became too tough a task. She still plays as a full-back for Belper in the Derbyshire National League, though now as a hobby.
"I played a bit last month but when I found out I was selected to come to Kuala Lumpur, I knew I needed to stop," she laughs.
"I thought: 'I can't get injured now!' I've put a pause on it but the hockey girls are really supportive because they've known this is what I've been pushing for over the years. They were really happy."
In truth, the push truly began on that famous day at Lord's. It was a Eureka moment – not only for the national psyche and a sporting nation, but for Glenn, who at the time was dominating at county junior level, making her way in senior women's cricket with Derbyshire and sharing a Kia Super League dressing room with Ellyse Perry.
"When Anya got the last wicket, the place erupted," she recalls. "I did get a bit emotional watching it, to be honest. I've always thought I'd love to get to that level, so it was a very inspiring day."
Glenn pauses. "It hasn't sunk in that I'm actually here, training and playing. I still find it hard to believe sometimes," she adds. The architects of her inspiration have become her teammates.
If Lord's was a surreal experience, she could be excused for refusing to believe the trajectory of her journey since. Friends teased her at the time that next year's T20 World Cup in Australia might be a realistic target; she would reply with a laugh and a joke.
"I've always had this goal of achieving in a sport to a really high level," she reflects. "As I grew up, my two main sports were hockey and cricket. I was struggling between the two; I wasn't sure which I was leaning towards.
"But even before that World Cup, deep down I kind of knew I wanted to go for cricket. I had this gut feeling that I knew it was what I wanted. But it's still quite daunting to commit to that when you feel like you've still got quite a long way to go.
"But when I watched the World Cup – and a lot of other series, where England have been so successful, it has just sent shivers through me. I've often thought: 'Oh my God, I would absolutely love that.' I think deep down I always knew that's what I wanted.
"Since then, I've been pushing hard for that. But I've still enjoyed my cricket, I've tried not to overthink and get ahead of myself because you never know how long it takes until you get there. I've just tried to keep it simple. But that day at Lord's did really inspire me and make me realise that was what I want."
The night in Rio de Janeiro carries a similar weight for Glenn. Maddie Hinch became a hero by saving all four Dutch penalties in the shootout. It was the birth of Hinch, Sam Quek, Kate and Helen Richardson-Walsh as mainstream sporting names. The evening held extra significance for Glenn; Webb herself was Belper born and bred.
"It was really emotional for me," she explains. "It's not just hockey and cricket – any moment like that, I do get really emotional watching it – it sends shivers through me, just to achieve at such a high level.
"But I think there was a difference; I was so happy for the hockey girls, but when I saw the World Cup, there was something more.
"I think deep down I knew I had it in me that I could get to that level if I worked hard. Whereas with hockey, I'd have to do so much more. I didn't have as much passion for it as I have for cricket.
"I've just grown up around cricket for as long as I can remember. The World Cup just made me feel like I actually could get to that level. That was the difference; I knew it would be a while off, but I thought if I worked hard enough then hopefully it would pay off."
It is a dream that began as a young child; Glenn has long been a staple of Denby Cricket Club, where her older brother and sister still play. Her father and uncle both played Premier League cricket there. This season, playing for the club's second team in men's senior cricket, she took 14 league wickets.
Her earliest memories of the game are of afternoons and evenings spent playing Kwik Cricket in her garden at home. "The amount of times we'd hit the ball over to the next-door neighbour and not get angry because we had to go and fetch it," she chuckles before tailing off, perhaps, at the realisation of the pathway she has trodden towards Team England.
"It was nice – I never had any pressure to play, I never had to play. I just grew up around it and really liked it. A lot of my friends are from there as well, so I've just been involved in it since I can remember.
"I grew up playing with boys. When we got to Under-11 and Under-13, it was decided who was ready for hard-ball or soft-ball. All the lads were and then they asked me to join with them. I was like: 'Okay then, that's fine.' I've grown up playing with them."
They have played a major part in her life's social branch. Glenn was home-schooled until sixth form, following the example of her siblings. She looks back only with joy at an atypical childhood that gave her the very best of multiple worlds – the perfect blend of education, sport, friendship and opportunities that would otherwise not have presented themselves.
She joined Trent College as a boarder for the final two years of her education, if only to sample the experience. There, she played her only school cricket, representing the boys' first team in a side led by former Leicestershire seamer Scott Boswell, one of the country's most qualified coaches – he holds a Level Four badge.
Home-schooling worked for him and then for his sister, who had wanted to follow in his footsteps. Both did well in their GCSEs and retained strong social lives; they spent much of their time at Denby and, by extension, with friends from school nearby.
"It was actually so much fun," Glenn says. "My brother was home-schooled and my brother and sister are really close, so my sister wanted to do what he did.
"I had the choice, so I grew up being home-schooled and got to about 14 or 15 and then decided I wanted to go to school just to see what it was like.
"Me and my family got to do so many things; we went to Australia and New Zealand for a bit because we could literally take our work with us. I did really love it. I probably wouldn't have done it if I didn't have that social side. It was quite different but it was really good. There was so much more flexibility.
"I just got to focus so much more on stuff. I had the time to do the work and then I had the time to focus on my sport. And then there was the social side after school. Because I grew up playing with the lads, they're still my friends now.
"At the weekend when there was cricket on, we'd go in the nets from like nine in the morning and play game after game in the nets. That was literally what our weekends were like – it was so much fun. I don't think I'd have done it without that social side. Otherwise, I'd have gone to school – because I got that balance, it worked really well.
"You can do the work you have to do and then switch off from it in the evenings and go over to mates or spend time with the family. I liked it because we never grew up having to be home-schooled or you have to go to school. It was a case of what worked for us – if we wanted to change it, then we'd change it. But we didn't want to – it was brilliant."
Home-schooling is an oft-misunderstood exercise. Of course, for many it will not work as it did for the Glenn family, whose sporting base provided a readymade social hub and ensured the siblings never became isolated.
Their father would assist them with their work, which was set by a tutor. He would visit regularly to go through their efforts during their younger years, before appearing less frequently as they got older.
"My dad was really good at maths," the 20-year-old adds. "I don't know how he does it, but he is.
"The tutor would provide us with the work and explain what needed to be done. We'd have different revision resources and things like that. He'd come and give the work to us and then by the time we'd next see him, we'd go over it. That was how it worked.
"With a lot of the English and maths stuff, our dad would help. But with the rest of it, we'd try and learn it ourselves and if we struggled, we'd have different revision resources. If we were really struggling, we'd contact the tutor. That's how we'd go about it."
It gives Glenn a point of difference; she speaks only in the most glowing of terms of her upbringing. The bond she has with her family is obvious, even as the youngest of three siblings with a substantial age gap to her sister, 25, and her 28-year-old brother. Her success, it feels, is very much a family affair.
Glenn is the same age as Sophie Ecclestone, now firmly established as England's premier spinner; arguably, the left-armer is the best in the world. The job for Glenn, to a degree, is to be next in a long queue – Alex Hartley recently lost her central contract, while Mady Villiers made her debut during the Women's Ashes; Laura Marsh is still going strong and Sophia Dunkley remains on the radar. Kirstie Gordon has also played five T20Is.
There is certainly a huge amount leaning in her favour. With the women's game almost exclusively a white-ball exercise at international level, the value of a wrist-spinner can never be underestimated. And with 40 domestic deals up for grabs from 2020, it seems almost certain that Glenn, having put aside her hockey to commit fully to her cricketing art, will be a beneficiary.
"She was the standout spinner really in the Super League," England interim head coach Ali Maiden told The Cricketer.
"She's earned her place. We are aware that leg-spin is a massive asset, particularly in T20 cricket. She's got a fantastic opportunity. Since I've been around with Robbo, we've been searching and trying to get a leg-spinner through. We know it's important in the game – we only play 50-over and T20 cricket, so we knew it was absolutely vital."
Glenn, however, is more than a single-dimensional operator; she has opened the batting for Loughborough Lightning in the Kia Super League and, having begun her cricketing life as a batsman who bowled, she comes with some pedigree.
In one Derbyshire Women Under-17 game, she made 111 against a Scottish attack that included Gordon. Gordon, to her credit, responded with a second innings 105.
In last season's final Kia Super League, only four spinners took more wickets than Glenn – and none at a stingier economy rate; her 11 wickets cost just 6.05 runs per over.
Despite her youth, Glenn has been in elite sport for too long to get ahead of herself. There are few leg-spinners on the circuit at the moment, but that is no reason to relax.
"Since I've really discovered a few new things, it has really put quite a bit of confidence in me, especially with not many leg-spinners around," she says.
"But I also know a lot of talented girls a little bit younger who do bowl leg-spin. I know people and catch up so easily, so even though I'm the only one in the team at the minute, I'm continuing to push on my own game.
"I'm trying not to think about it too much – sometimes if I do think about being the only leg-spinner too much, then it can get into my head and have too many expectations on myself. I try to see it as though I'm one of many leg-spinners pushing for that role."
Bubbly, charismatic and immensely talented, she has plenty going for her. The home-schooled, hockey-playing leg-spinner is on the cusp of achieving her Lord's dream. And she won't stop there.